Tips for your Trip- SRI LANKA
Sri Lanka is one of the most beautiful places all over the world. As a favorite travel destination, on a list, of every adventure or budget traveler. It combines breathtaking nature heritage, impressive historic sites, endless beaches, tea plantations, good weather all year round, crazy buses, delicious curries and much more!
Explore the island!
Traveling around Sri Lanka is quite easy and cheap. You can choose from plenty of options. If you are looking for an adventure, rent a tuk-tuk and discover new places. The world's most scenic train ride you can see from Kandy to Ella by train. The journey takes approximately 7 hours and 2nd class ticket costs around 1 €. Cheap option are buses, however the traffic in Sri Lanka is very similar to India. Connection between south India and Sri Lanka we might find in their cuisine. Spices and herbs make dishes delicious and exotic. There's nothing more common than Sri Lankan rice and curry. Kottu Roti is a street food extremely popular by locals and visitors.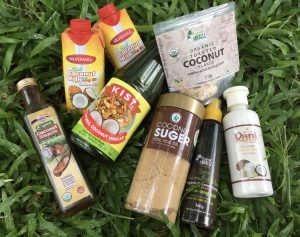 Essential product in Sri Lankan kitchen is coconut milk, which makes Sri Lanka one of the most vegetarian and vegan friendly countries in the world.Tired after traveling, lazy with full stomach you might search for accommodation. To find hostel, guest house or hotel is very easy. Use online bookings or ask locals. People here are friendly and trying to give you useful information. If you want to escape from a crowd, you can go hiking and you'll see peaceful nature, waterfalls, tea plantations and spectacular mountain ranges. A lot of historic sites are in inland, Dambulla Cave Temple, Sigiriya Rock Fortress, Temple of the Tooth and much more. For animal lovers check out Yala National Park, home of the densest population of spotted leopards in the world. You can also spot elephants, tropical birds, lizards, and a variety of lovely flora and fauna. If you move to the coast, there you'll find busier beaches full of restaurants and activities. A romantic sunset sounds better for you? Sri Lanka has much more to offer.
---
Endless beaches, where you can spend a whole day out of the crowd. These beaches with wild ocean are waiting for you in the south of Sri Lanka, such as Ambalangoda beach or beaches between Habaraduwa and Koggala. Traveling to the east coast, you might like beach in Nilaveli or Kalkudah beach.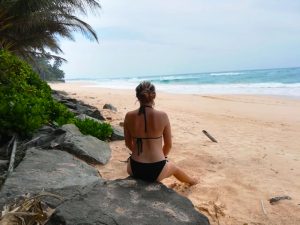 Water and sun
Speaking about ocean, Sri Lanka is famous for watersports. For surf lovers it's a paradise! Waves are not that giant, they are smaller and longer, that's why is Sri Lanka good option for all levels. Few spots which you might find interesting for surfing are in Weligama, Hikkaduwa, between Unawatuna and Galle (Dewata Beach), however on the south coast you may find surf schools almost everywhere. The main place where you can enjoy surfing from May to September is around Arugam Bay. Thanks to double monsoon season Sri Lanka has good weather at any time of the year, depends on which part you would like to travel. Best time to visit south coast is from October to April. Except for surfing, you can explore more from the sea world.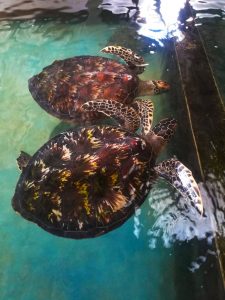 To find out more about turtles, visit Sea Turtle Hatcheries in Habaraduwa or Hikkaduwa. If you're looking for a nice trip with family, you might be interested in Dolphin and Whale Watching near Mirissa (south) or in Nilaveli (east). Depends on the season of the year, so its better to make your plan in advance.
Blue adventure
Snorkeling is great option how to watch vibrant coral reefs, rocks and coral fishes below. You don't need any special equipment or skills to get know the fascinating marine life. Unawatuna Bay (south coast) combines snorkeling and diving at the same place.The advantage of booking a boat trip with a diving center is that you get all equipment and a guide who takes care of you and shows you spots you might overlook. Popular in Unawatuna Bay are boat trips to the Rock Island and the Jungle Beach. Snorkeling with turtles you can at well-known Dalawella beach, located few minutes by tuk-tuk from Unawatuna Bay. This "Turtle Beach", except for turtles in a lagoon, is famous for the palm tree rope swing, which you cannot miss. Visiting the east coast, check up the historic city of Trincomalee surrounded by white sand beach, great for snorkeling and diving. You should definitely book a ride to the famous Pigeon Island Marine Park, located approximately 20 minutes boat ride from Nilaveli beach.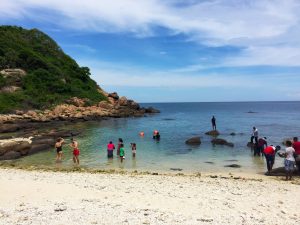 ---
Pigeon Island is one of the two Marine National Parks of Sri Lanka. Around 100 species of corals and 300 coral reef fishes, that's the absolute highlight at your stay in Trincomalee district. Explore living corals, colorful marine life such as Moorish Idols, Box Fish, Parrot Fish, Butterfly fish, Lion Fish, Moray Eels, Cornetfish, Starfish, and sometimes Blacktip Reef Sharks and Turtles.
Enjoy the underwater world more and uncover wonders of the deep blue ocean. From dazzling coral reefs through tiny nudibranchs to massive whale sharks. Sri Lanka is an amazing diving destination and paradise for shipwreck lovers. Wrecks are suitable for all diver levels, from Open Water Divers to technical divers. If you're looking for life changing moments, try scuba diving! You don't need any previous experience. Many dive centers have programs for beginners, so you can try what it's like to breathe underwater. When your trip is nearly finished, you can stop over in the Maldives. Fascinating country, located just one hour by plane from Sri Lanka.